LINCOLN OF BLOOMINGTON GETAWAY CONTEST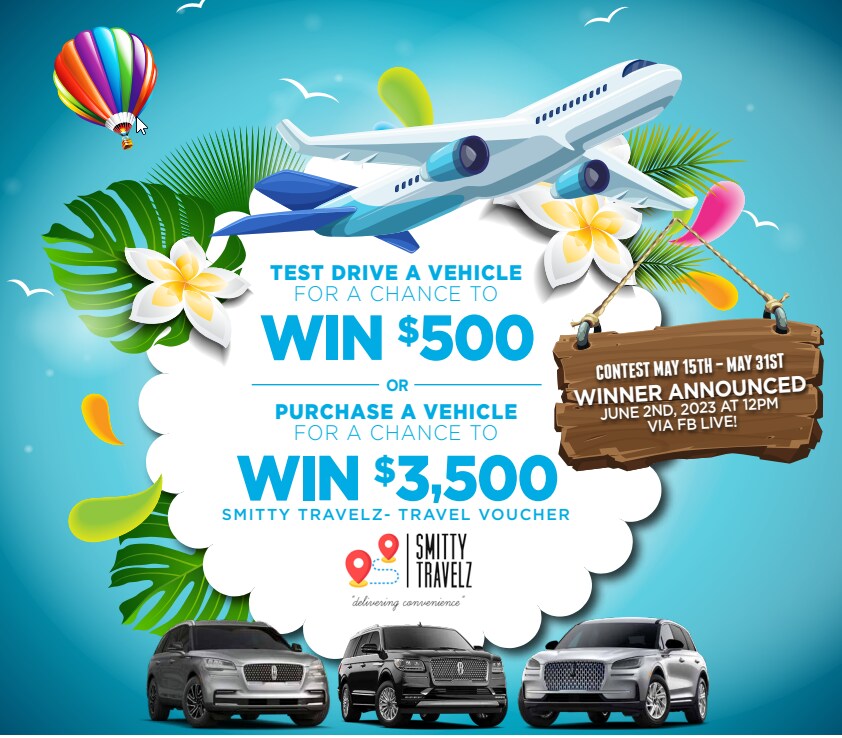 Make an Inquiry
* Indicates a required field
OFFICAL CONTENT RULES
NO PURCHASE IS NECESSARY TO ENTER OR WIN THE $500. A PURCHASE WILL GIVE A ENTRY INTO THE $500 AND TRAVEL VOUCHER DRAWING. ALL FEDERAL, STATE, LOCAL, AND MUNICIPAL LAWS AND REGULATIONS APPLY.
VOID WHERE PROHIBITED.
Lincoln of Bloomington "Lincoln Getaway Contest" is aimed at creating awareness and interest in Lincoln of Bloomington websites and social media pages using Facebook social media and other mediums which may include, but are not limited to newsprint, television, websites, or radio. Facebook is in no way affiliated with sponsorship of this contest.
1. Eligibility "Lincoln Getaway Contest" (the Contest) is open to legal residents of the fifty (50) United States (i.e., must be able to show proof of legal permanent residence, for example, a "green card"), excluding Rhode Island and unless were prohibited by state laws, who enter in person or via U.S. Postal Services, and who are at least eighteen (18) years old at the time of entry. Employees of any Lincoln of Bloomington, or any other company associated with the promotion of the Contest, and their respective parents, subsidiaries, affiliates and advertising and promotion agencies as well as the immediate family (spouse, parents, siblings, and children) and household members of each such employee are not eligible. The Contest is subject to federal, state, and local laws and regulations. "Entrant must provide a valid Driver License. No other form of identification will be accepted."
2. Sponsor
The Contest is sponsored by Lincoln of Bloomington. 1001 Clover drive S, Bloomington MN, 55420
3. Agreement to Official Rules
Participation in the Contest constitutes entrants full and unconditional agreement to and acceptance of these Official Rules and the decisions of the Sponsor, which are final and binding. Winning a prize is contingent upon being compliant with these Official Rules and fulfilling all other requirements set forth therein.
4. Contest Period
The Contest begins on May 15th, 2023, at or about 8AM and ends on May 31st, 2023, at 8PM (the Contest Period). Entries that are submitted before or after the Contest Period will be disqualified. Submissions will be accepted for the duration of the Contest using any of the following methods:
5. How to Enter
To enter the Contest, visit Lincoln of Bloomington during the Contest Period and take a test drive on a new or used vehicle. A Lincoln of Bloomington MUST accompany you on the test drive. Once the test drive is completed you must complete the entry form which can be found at the dealership website which the employee will help you complete. Limit one entry per person for the duration of the Contest Period, regardless of place of entry. Entries received from any person more than the stated limitation will be void. All entries become the property of the Sponsor and will not be acknowledged or returned.
6. First Prize Winner Selection and Notification
Potential winners will be notified on June 2nd, 2023, between 12pm- 6pm at the phone number associated with the entry. Potential winners will be required to respond with 72 hours. The failure to respond timely by June 5th at 8pm to the notification may result in forfeiture of the prize. Potential winners will be required to verify their address and execute and return an affidavit of eligibility, a liability release, and (where imposing such condition is legal) a publicity release, and other prize releases (collectively, the "Prize Claim Documents") covering eligibility, liability, advertising, publicity, and media appearance issues. Prizes will not be awarded until all such properly executed Prize Claim Documents are returned.
7. Odds of Winning
Odds of winning a First Prize depend on the number of eligible entries received.
8. General Conditions
The Sponsor reserves the right in its sole discretion to disqualify any individual it finds to be tampering with the entry process or the operation of the Contest or to be acting in violation of these Official Rules or in an unsportsmanlike or disruptive manner. Any attempt be made, the Sponsor reserves the right to seek damages (including attorney's fees) and any other remedies from any such person to the fullest extent permitted by law. Failure by the Sponsor to enforce any provision of these Official Rules shall not constitute a waiver of that provision.
9. Release and Limitations of Liability
By participating in the Contest, entrants agree to release and hold harmless the Sponsor, and each of their respective parents, subsidiaries, affiliates, advertising and promotion agencies, other companies associated with the Contest, and each of their respective officers, directors, employees, shareholders, representatives and agents (the Released Parties) from and against any claim or cause of action arising out of participation in the Contest or receipt or use of the prize (including any travel or activity related thereto) including, but not limited to: (a) any technical errors associated with the Contest, including lost, interrupted or unavailable Internet Service Provider (ISP), network, server, wireless service provider or other connections, availability or accessibility or miscommunications or failed computer, satellite, telephone, cellular tower or cable transmissions, lines or technical failure or jumbled, scrambled, delayed or misdirected transmissions or computer hardware or software malfunctions, failures or difficulties; (b) unauthorized human intervention in the Contest; (c) mechanical, network, electronic, computer, human, printing or typographical errors; (d)(e) any other errors or problems in connection with the Contest, including, without limitation, errors that may occur in the administration of the Contest, the announcement of the winner, the cancellation or postponement of the even and/or the flyover, if applicable, or in any Contest? Related materials: or (f) injury, death, losses, or damages of any kind, to persons or property which may be caused, directly or indirectly, in whole or part, from entrants' participation in the Contest or acceptance, receipt or misuse of the prize (including any travel or activity related thereto). Entrant further agrees that in any cause of action, the Released Parties liability will be limited to the cost of entering and participating in the Contest, and in event shall the entrant be entitling to receive attorney's fees. Released Parties are also not responsible for ant incorrect or in accurate information, whether caused by site users, tampering, hacking, or by any equipment or programming associated with or utilized in the Contest. Entrant waives the right to claim any damages whatsoever, including, but not limited to, punitive, consequential, direct, or indirect damages.
9. Disputes
Except where prohibited, each entrant agrees that all disputes, claims, and causes of action arising out of, or connected with, the Contest or any prize awarded shall be resolved individually, without resort to any form of class action, and exclusively by the appropriate court located in the State of Minnesota. All issues and questions concerning the construction, validity, interpretation and enforceability of these Official Rules, entrants rights, and obligations, or the rights and obligations of the Sponsor in connection with the Contest, shall be governed by, and construed in accordance with, the laws of the State of Minnesota, without giving effect to any choice of law or conflict of law rules, which would cause the application of the laws of any jurisdiction other than the State of Minnesota.
10. Privacy
Entrants agree that personal data submitted with an Entry, including name, mailing address, phone number, and email address may be collected, processed, stored, and otherwise used by Lincoln of Bloomington and its affiliates for the purposes of conducting and administering the Contest. Lincoln of Bloomington will protect personal data to the fullest extent allowed by law; however personal data may be subject to release under applicable public information laws. Lincoln of Bloomington shall have no liability for release of personal information. By entering the Contest, Entrants agree to the transmission, processing, disclosing and storage of this personal data by Lincoln of Bloomington and its affiliates. All personal information that is collected from the Entrant is subject to Lincoln of Bloomington applicable privacy policies. Personal data collect from contestant entries will not be shared with Facebook or other third parties.
11. Publicity
By entering the Contest, Entrants agree to participate in any media or promotional activity resulting from the Contest as reasonably requested by Lincoln of Bloomington and agree and consent to use of your name and/or likeness by Lincoln of Bloomington. Lincoln of Bloomington will contact Entrants in advance of any sponsored media request for interviews. The pictures may also be used for press and media purposes and Entrant agrees to waive any rights and not assert any intellectual property rights that Entrant has or may have in the Entry. Lincoln of Bloomington reserves the right to publish the name and likeness of the Entrants on the Contest Site or through other media for publicity purposes.